Greetings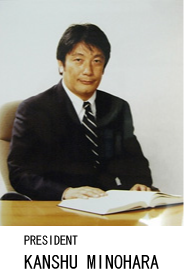 Since the inception of its predecessor (Kusakabe Sangyo), Kusakabe Kikai Co., Ltd. has been growing alongside the development of Japan's industry for about 80 years now, and has transformed itself to address the diverse needs of its customers.
In the early days of its formation Kusakabe offered competitive products as a commercial machine tool firm. Later on, however, an engineering section with manufacturing functionality was set up to provide specialized machines in accordance with its customers' manufacturing conditions..
Utilizing a managerial structure based on (a) our proprietary information network created through our export business to China and other foreign countries since the early 1980s, (b) expertise gained as a machine manufacturer, and (c) overseas offices, we currently provide competitive imports of stable quality, assist customers to export their products via our overseas sales networks, and support them in manufacturing their products overseas.
Regardless of the era, our motto is "Customer Satisfaction First". We intend to continue to transform ourselves in order to ensure we can satisfy our customers' ever-changing needs in the rapidly shifting Japanese economy.