SPIRAL FIN TUBE WELDING MACHINE SYSTEM
This machine is capable of producing fin tubes, of various diameters, using a continuous finning process.
Finning requirements that may be performed by this system includes:
・Solid finning
・Serrated finning
・Spacing between fins
・Various heights of fin requirements
Solid state welder can work out much higher welding efficiency and make it possible to reduce 30% of electricity consumption comparing with vacuum-tube type welder.
The carriage uses AC servomotors enables to change fin pitches during welding.
A horizontal fin accumulator saves spaces and maximizes work storage capacity.
Touch Screen Control Panel which will display error messages, production data, power & speed of machine (by graph & digital values).
The power is adjusted automatically according to rotation speed which allows for easy control by the operator.
Easy access to the component of machines and equipment facilitates maintenance and minimizes repair cost.
A shot-blaster (option) efficiently cleans and smooths tube surface for increased fin weldability.
Flexible configurations make the system adaptable to any changes in the factory layout.
The Kusakabe Spiral Fin Tube Welding Machine System includes:
Solid Type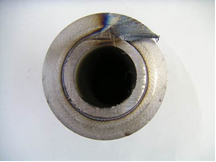 Serrate Type